Inch Loss Body Wrap
Shed some inches in just one session!
Shapes, Compresses, Firms and Tightens the Skin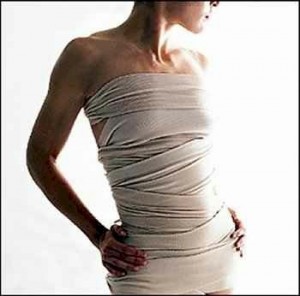 An inch loss body wrap nourishes and rejuvenates the skin. The clay forms, compresses, firms, and tightens the skin while shaping the body with vitamins, minerals, and natural ingredients.
The Swedish Miracle Body Wrap System combines the finest natural ingredients from northern Europe with the Egyptian art of pressure wrapping to tighten, contour, and deeply cleanse the body.
Swedish Miracle products are specially formulated with amino nutrients, the building blocks of protein. Used in conjunction with rich natural sea clays, Swedish Miracle compresses, nourishes and rejuvenates the skin.
Far infrared Sauna
After wrapping the body, continue to shed those inches with a 30 minute infrared sauna session, that will enhance your ability to meet your inch loss goals.
Burn Fat: Relax while you burn up to 600 calories.

Flush Toxins: Sweat out 20% toxins & 80% water retention

Skin Rejuvenation: Hydrates & Deeply cleanses impurities

Cardiovascular Fitness: Increase body's heart rate, same as vigorous exercises.
Pricing table with an Table ID of "body_wraps" is not defined.
Benefits Include
Incredible Instant Inches Lost

Far Infrared Weightloss Detox Sauna

Burn up to 600 Calories

Sweat Out 30% Toxins

Firmer, More Toned Skin

Lasting Hydration